Sku:

R&M-ANIMOP

Type: BOARD GAMES
Late for the Sky Wild Animalopoly
Spend

$100.00

to

FREE SHIPPING
Short content about your product.
Short content about your product.
USE RICH TEXT EDITOR
And big icons to highlight the product sale point
Wild Animalopoly has all the fun of a traditional real estate trading game with some wild animal twists. Instead of buying property, players become caretakers of animals. Instead of rent, players pay Meal Fees. A player collects four Elements - the land, water, food and clean air that all animals need to survive and trades them in for a Habitat where an animal can survive on its own. Flip over the Animal Certificates and you'll find several fun facts about each animal. Did you know a polar bear has coal-black skin' Or that a flamingo is pink because it eats shrimp' How about the fact that a giraffe hoof is the size of a large dinner plate' It's all fun and games until you land on "Hide From Predator"--then you're out for 3 turns. This game is wild.
Add an additional description to your products. You may set the same content for all products.

Ex: Shipping and return policies, size guides, and other common questions.

Or you may link a dynamic source to show product fields like vendor or custom product meta fields.

Ex: Ingredients, nutritional info, additional features and other unique per-product data.
View full details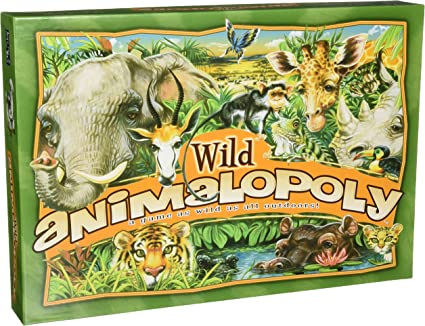 Late for the Sky Wild Animalopoly
SUBHEADING
Text with colored background and side image
This section allows you to set a text box background.
SUBHEADING
Recently viewed products