Sku:

GW-80-46

Type: Tabletop Games
General's Handbook: Pitched Battles 2022-23 Season 2
Spend

$100.00

to

FREE SHIPPING
Short content about your product.
Short content about your product.
USE RICH TEXT EDITOR
And big icons to highlight the product sale point
Return to the Splintered Land of Gallet for the second season of 2022-23, as armies from across the Mortal Realms venture into the lightless netherworld below the surface of Ghur. Only the bravest and most inspiring champions will be able to lead their forces to victory in these merciless cavern-wars – will you be among them?

This essential supplement gives you new ways to enjoy matched play and competitive games of Warhammer Age of Sigmar. Inside its pages you'll find unique realm rules for waging war in the terrifying depths of Gallet, as well as core battalions, enhancements, grand strategies, and battle tactics usable by every faction, plus a selection of new and updated battleplans designed for this competitive season of Warhammer Age of Sigmar.

Inside this 96-page ringbound book, you'll find:

- Background material that shines a light on one of the continents engaged in the glacial battle with Thondia for dominance over the Ghurish Heartlands – Gallet, the Splintered Land

– The newest Pitched Battles battlepack, which you'll need in order to fight Pitched Battles in the current tournament season. This includes the current army selection rules, an introduction to the Battle Ready standard of painting, and a complete list of official publications for use in Pitched Battles

– New realm rules for fighting in the lightless depths of Gallet, where inspiring leadership is key – including rules for empowering heroic commanders, new heroic actions, and a new spell and command ability available to all factions

– Three new core battalions and a host of unique enhancements to muster your army for the cavern-wars

– 12 updated and new battleplans, along with six grand strategies and eight battle tactics, offering new ways to claim victory in this season of Pitched Battles

– Up-to-date warscrolls for each of the universal Endless Spells

– A blank tournament scoring sheet for you to photocopy and use

– The Warhammer Age of Sigmar Core Rules – reprinted here for you to reference, including a rules index

The ring-bound General's Handbook and layout of the battleplans have been designed so that the book can be folded flat to save space, while still providing an overview of the essential information to easily reference once the game has begun.

This book also comes with a card token board, which contains 14 double-sided tokens to use as objective markers and reference your battle tactics.
Add an additional description to your products. You may set the same content for all products.

Ex: Shipping and return policies, size guides, and other common questions.

Or you may link a dynamic source to show product fields like vendor or custom product meta fields.

Ex: Ingredients, nutritional info, additional features and other unique per-product data.
View full details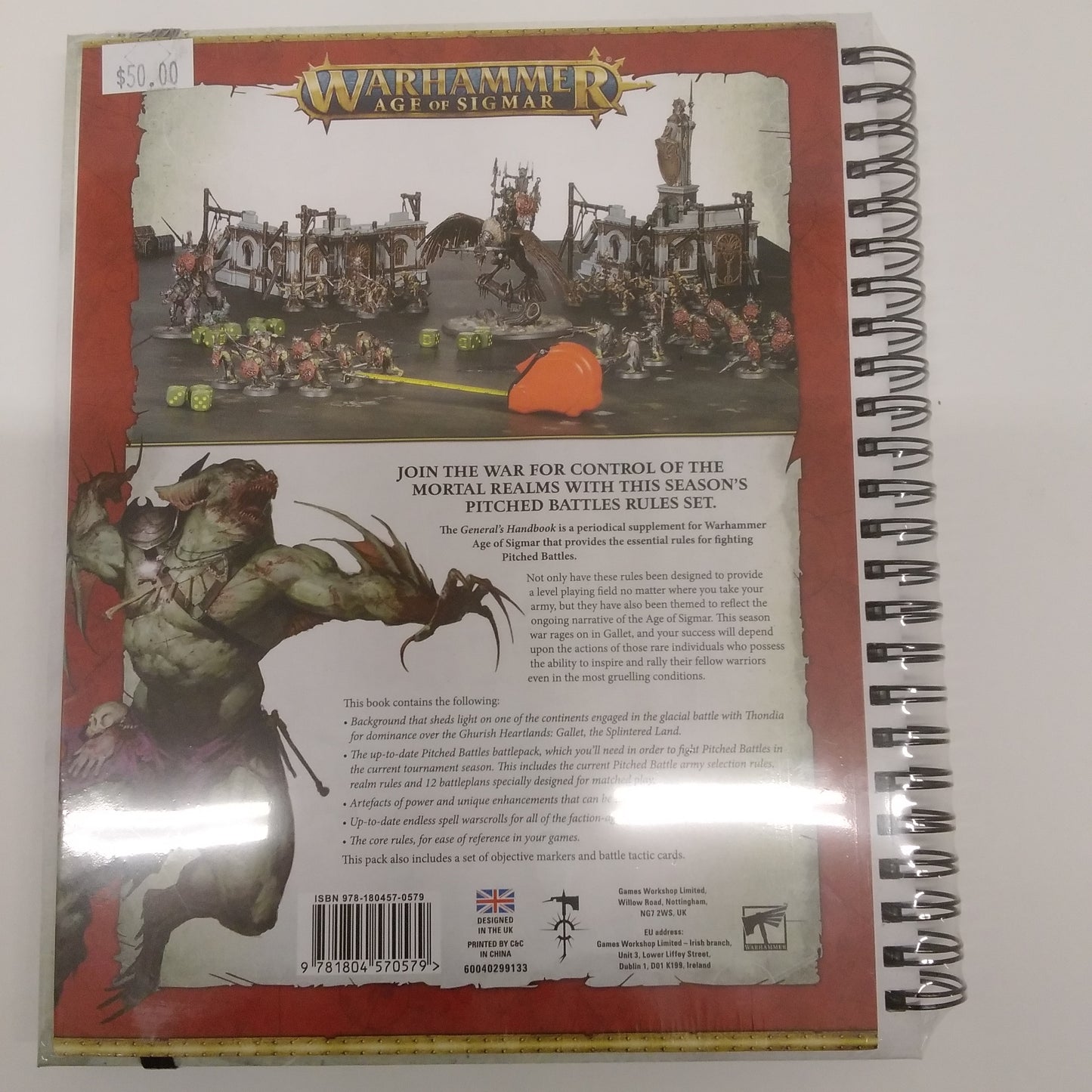 General's Handbook: Pitched Battles 2022-23 Season 2
SUBHEADING
Text with colored background and side image
This section allows you to set a text box background.
SUBHEADING
Recently viewed products