Sku:

GW-47-71

Type: Tabletop Games
Astra Militarum: Minka Lesk
Spend

$100.00

to

FREE SHIPPING
Short content about your product.
Short content about your product.
USE RICH TEXT EDITOR
And big icons to highlight the product sale point
Minka Lesk. The Last Whiteshield of Kasr Myrak, forged in the fires of the Fall of Cadia, now a Captain in the Cadian 101st Regiment. Lesk owes her meteoric rise through the ranks of the Astra Militarum to her repeated victories in the face of impossible odds, leading her fellow Cadians from the front lines in Humanity's war for survival.

This multipart plastic kit builds Minka Lesk, a legendary Cadian officer and star of Black Library fiction. The kit offers an impressive assortment of heads, arms, and accessories, allowing you to represent Minka at different points in her rise through the ranks – from a battle-worn young soldier for your Cadian Shock Troops, to a respected Captain suited for use as a Cadian Castellan on the battlefield. You can choose between a head wearing bandages or a comm-set, a pointing hand or power sword for her right arm, a lasgun or bolt pistol for her left arm, and a combat knife or empty scabbard for her belt.

Stood atop a scenic base littered with the rubble, remains, and blasphemous sigils of Cadia's fall, Minka is a fantastic addition to any Astra Militarum army or collection, and a great painting project for fans of her books.

This kit comprises 13 plastic components and comes with a Citadel 28.5mm Round Base. This miniature is supplied unpainted and requires assembly – we recommend using Citadel Plastic Glue and Citadel Colour paints.
Add an additional description to your products. You may set the same content for all products.

Ex: Shipping and return policies, size guides, and other common questions.

Or you may link a dynamic source to show product fields like vendor or custom product meta fields.

Ex: Ingredients, nutritional info, additional features and other unique per-product data.
View full details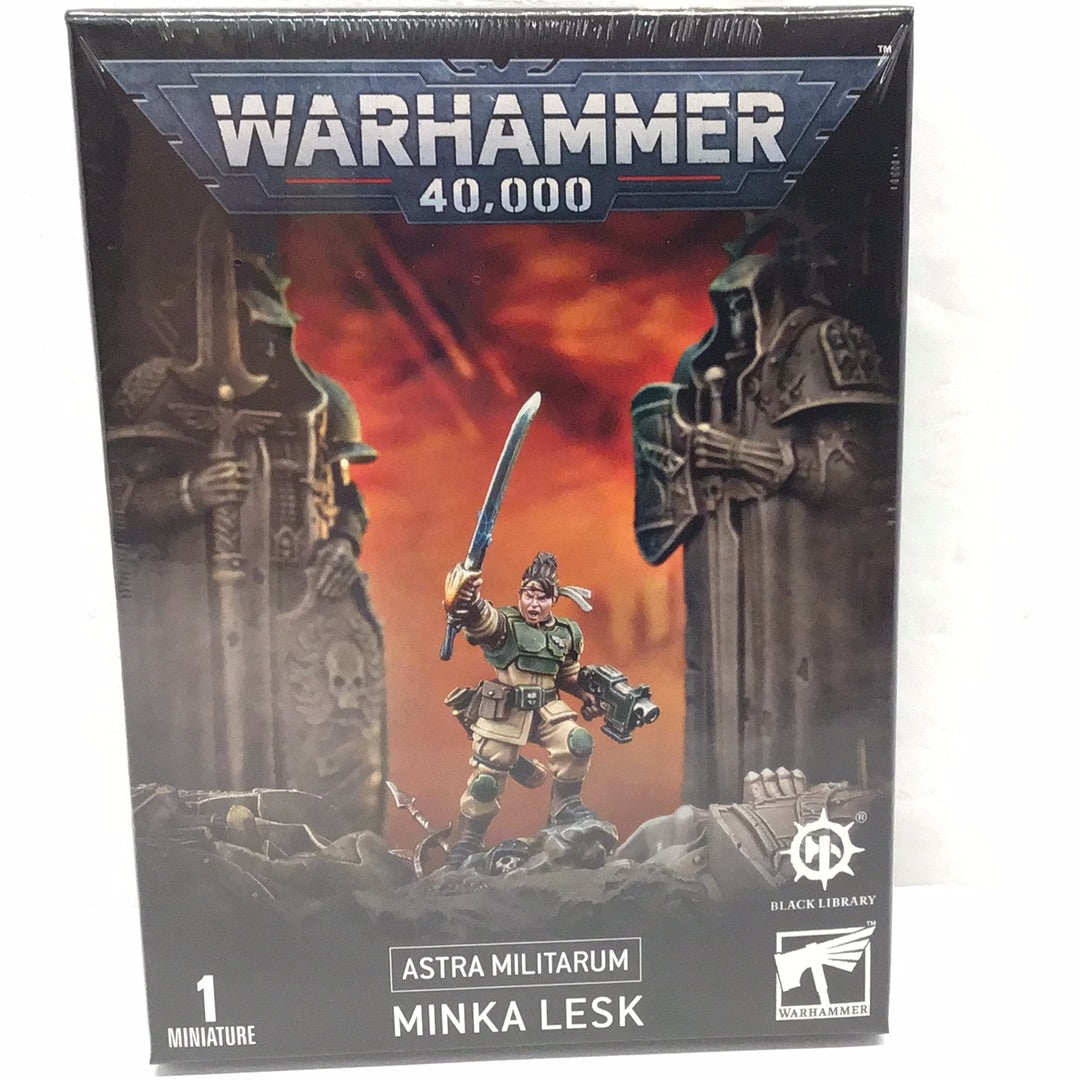 Astra Militarum: Minka Lesk
SUBHEADING
Text with colored background and side image
This section allows you to set a text box background.
SUBHEADING
Recently viewed products