Sku:

GW-47-35

Type: Tabletop Games
Astra Militarum: Lord Solar Leontus
Spend

$100.00

to

FREE SHIPPING
Short content about your product.
Short content about your product.
USE RICH TEXT EDITOR
And big icons to highlight the product sale point
Arcadian Leontus is the Lord Commander Solar of the Astra Militarum, wielding vast armies against apocalyptic invasions, sector-wide insurgencies, and even distant campaigns beyond the Segmentum Solar. A master tactician and peerless scholar of military history, he is guided in his strategic decisions by an entourage of seers, advisors, and priests. On the battlefield, the Lord Solar strikes a figure akin to the heroes of old atop his cybernetic stallion, Konstantin. Levelling his blade at the foe, Leontus bellows orders that see the dutiful soldiers of the Imperial Guard achieve victory after victory.

This multipart plastic kit builds Lord Solar Leontus – a supreme commander of the Astra Militarum, riding his heavily-augmented steed Konstantin. Stood atop the wreckage of a fallen Titan, the Lord Solar proudly brandishes his relic power sword, Conquest, with his arcane pistol – dubbed Sol's Righteous Gaze – holstered at his side. His commanding pose is further accented by his flowing cape and exquisite armour. The kit includes a choice of two heads – one with a stoic expression and closed mouth, the other bellowing orders to his troops, both clad in an impressive helm with a solar halo. If you're looking for a truly impressive centrepiece for your Astra Militarum collection, look no further – Lord Solar Leontus is as high-ranking an officer as you'll find.

This kit comprises 36 plastic components and is supplied with 1x Citadel 80mm Round Base. This miniature is supplied unpainted and requires assembly – we recommend using Citadel Plastic Glue and Citadel Colour paints.
Add an additional description to your products. You may set the same content for all products.

Ex: Shipping and return policies, size guides, and other common questions.

Or you may link a dynamic source to show product fields like vendor or custom product meta fields.

Ex: Ingredients, nutritional info, additional features and other unique per-product data.
View full details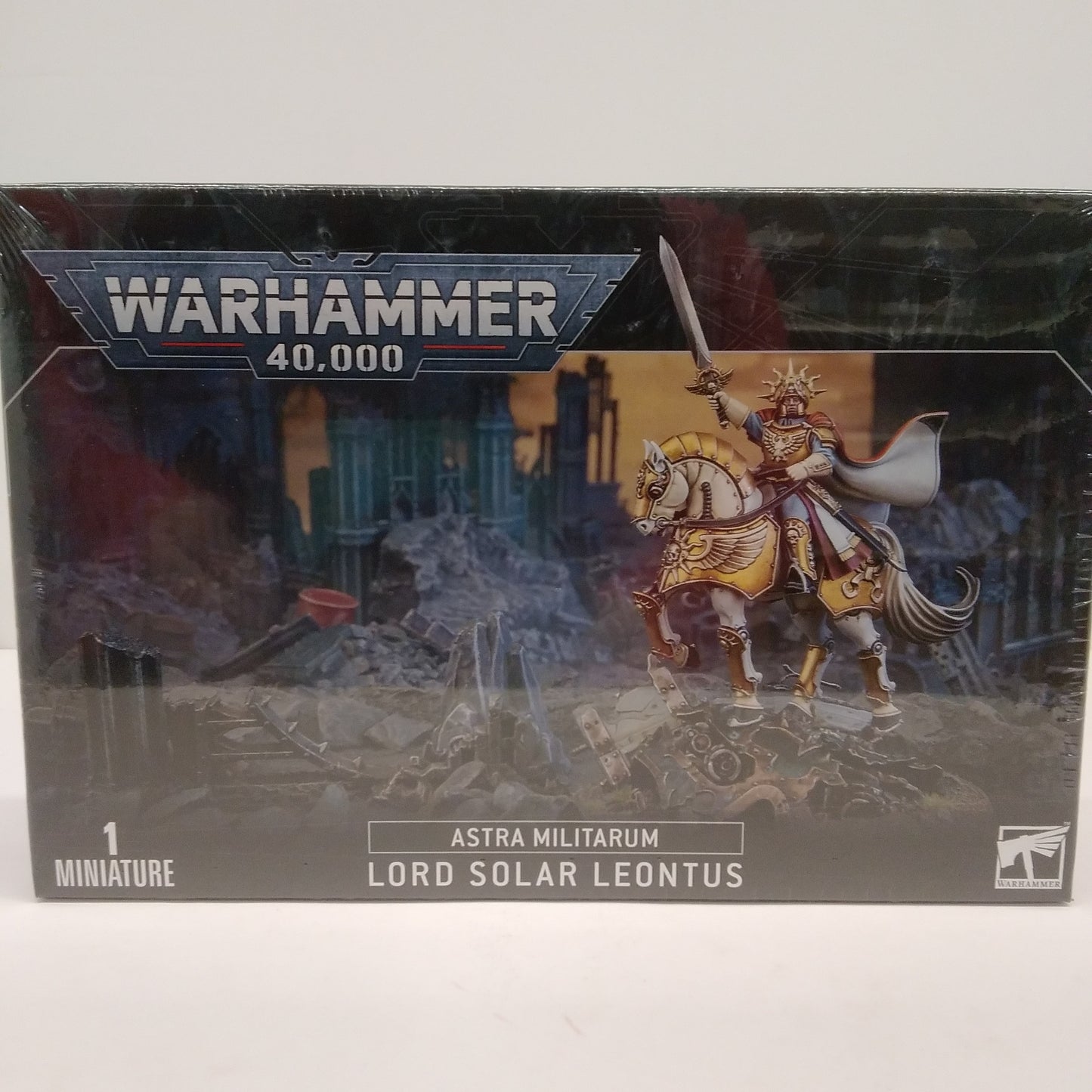 Astra Militarum: Lord Solar Leontus
SUBHEADING
Text with colored background and side image
This section allows you to set a text box background.
SUBHEADING
Recently viewed products