Sku:

GW-47-90

Type: Tabletop Games
Astra Militarum: Cadian Command Squad
Spend

$100.00

to

FREE SHIPPING
Short content about your product.
Short content about your product.
USE RICH TEXT EDITOR
And big icons to highlight the product sale point
Cadia's officer class are exceptional leaders, serving in perhaps the Imperium's most outstanding regiments. Trained to be the very best and surrounded by a cadre of hand-picked guards and aides, these uncompromising veterans expect no less from the troops under their command. Some are as inspiring as the regimental standards carried in their wake, while others are as motivational as the curt orders issued by their vox operators.

This multipart plastic kit builds a Cadian Command Squad, made up of a Cadian Commander and four Veteran Guardsmen. The Cadian Commander is armed with your choice of a laspistol, bolt pistol, or plasma pistol in one hand, and a chainsword, power sword, or power fist for the other. Each of the accompanying Veterans is equipped differently – one field medic with a lasgun and medi-pack, one vox operator with a laspistol and master vox system, one bodyguard with a laspistol and your choice of chainsword, power sword, or power fist, and one standard bearer carrying a lasgun alongside a regimental standard. The bodyguard and banner bearer can each instead be built as weapons specialists, armed with your choice of a flamer, grenade launcher, meltagun, or plasma gun.

The kit includes even more cosmetic choices to make your Command Squad stand out, like magnoculars, slung and stowed weapons, three finials for the regimental standard, and loads of different head and basing options than can be mixed and matched around the squad – enough to ensure that each Command Squad in your army looks like the unique veterans they are.

This kit comprises 123 plastic components, and is supplied with 5x Citadel 28.5mm Round Bases. Also included is an Astra Militarum Infantry Transfer Sheet, with 597 transfers featuring numerals, squad markings, and Cadian regimental heraldry. These miniatures are supplied unpainted and require assembly – we recommend using Citadel Plastic Glue and Citadel Colour paints.
Add an additional description to your products. You may set the same content for all products.

Ex: Shipping and return policies, size guides, and other common questions.

Or you may link a dynamic source to show product fields like vendor or custom product meta fields.

Ex: Ingredients, nutritional info, additional features and other unique per-product data.
View full details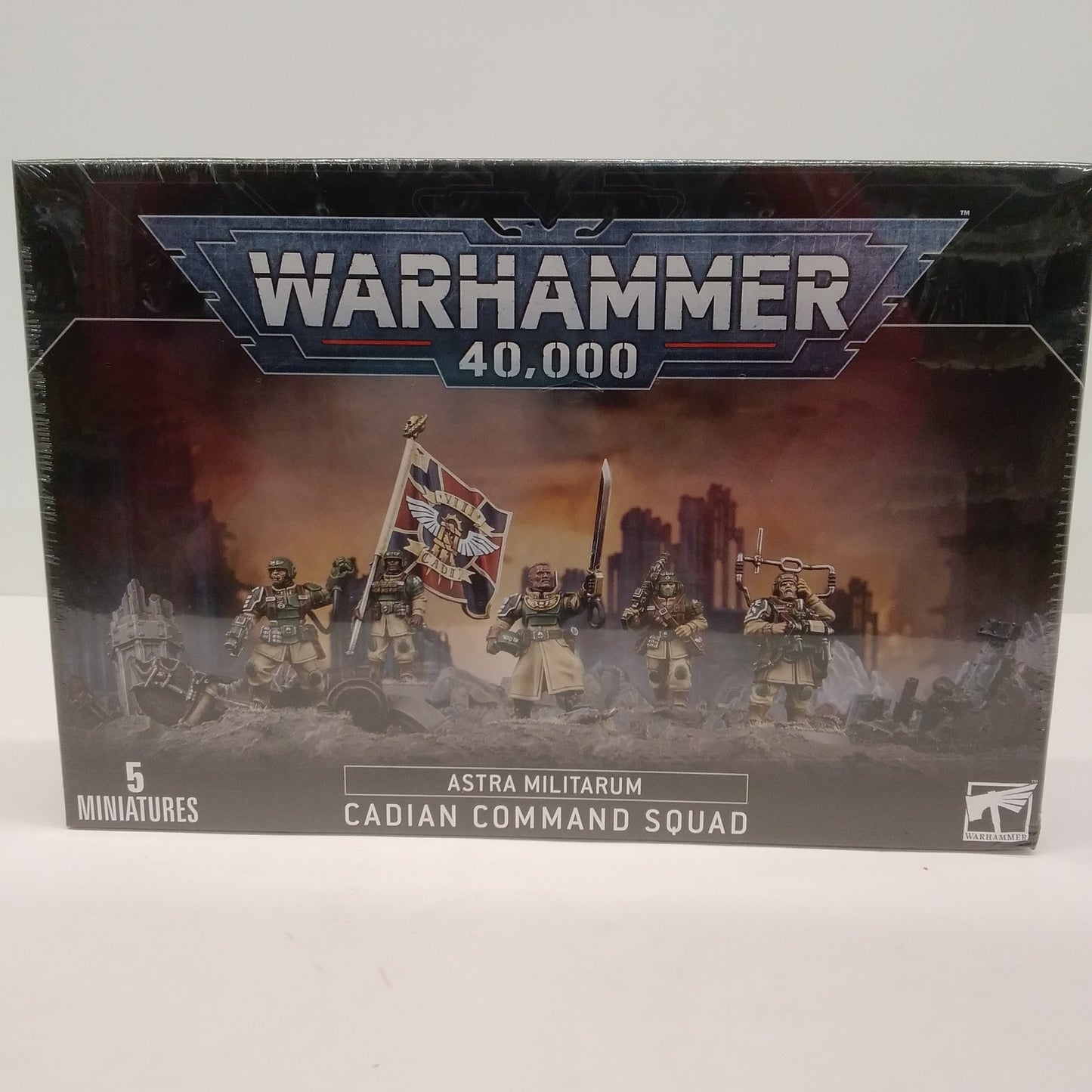 Astra Militarum: Cadian Command Squad
SUBHEADING
Text with colored background and side image
This section allows you to set a text box background.
SUBHEADING
Recently viewed products