Sku:

GW-80-16

Type: Tabletop Games
Getting Started With Warhammer Age of Sigmar
Spend

$100.00

to

FREE SHIPPING
Short content about your product.
Short content about your product.
USE RICH TEXT EDITOR
And big icons to highlight the product sale point
Warhammer Age of Sigmar is a tabletop strategy game of fantasy warfare. Whether you command the valiant Stormcast Eternals, the wicked Kruleboyz Orruks, or one of the many other factions fighting for dominance of the Mortal Realms, your battles in the realms promise to be action-packed.

Collect your army, build and paint the models, then match wits with opponents to see who's the better general. This magazine will help you learn everything you need to know to explore the dangerous and exhilarating world of Warhammer Age of Sigmar. Your adventure starts here!

Inside this 112-page magazine, you'll find information on the war-torn setting of Warhammer Age of Sigmar, where four Grand Alliances vie for control over the eight Mortal Realms. You'll learn about every aspect of the Warhammer Age of Sigmar hobby, from collecting armies of stunning Citadel miniatures, painting them in the colours of your choice, and leading them into battle in a thrilling tabletop wargame.

This magazine also includes the following multipart plastic miniatures:

- 1x Stormcast Eternals Vindictor (supplied with a 40mm round base)

- 1x Orruk Warclans Gutrippa (supplied with a 32mm round base)

Both models are designed to be pushed off their frames, and they fit together without the need for glue, so can be assembled within minutes.

These miniatures are supplied unpainted and require assembly.
Add an additional description to your products. You may set the same content for all products.

Ex: Shipping and return policies, size guides, and other common questions.

Or you may link a dynamic source to show product fields like vendor or custom product meta fields.

Ex: Ingredients, nutritional info, additional features and other unique per-product data.
View full details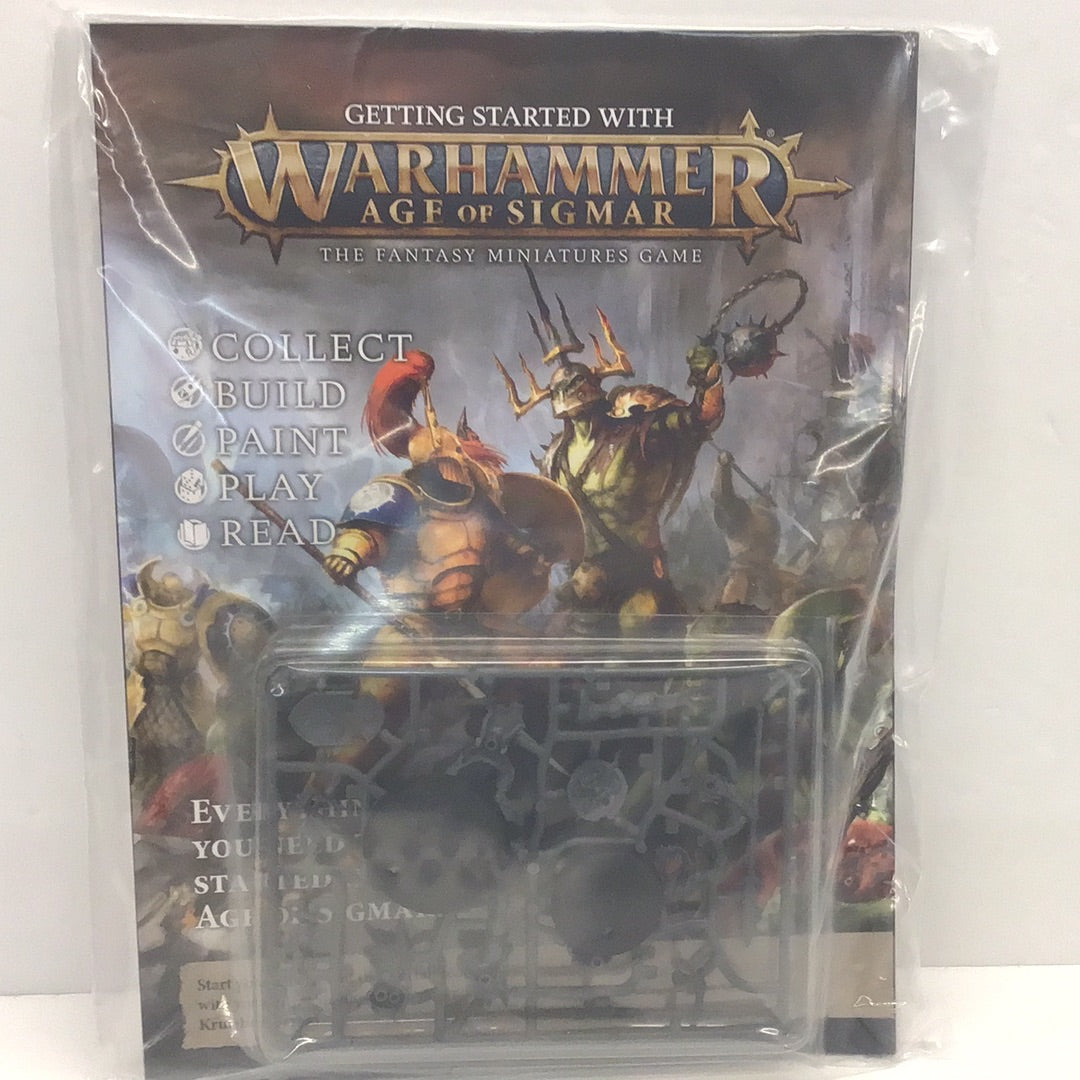 Getting Started With Warhammer Age of Sigmar
SUBHEADING
Text with colored background and side image
This section allows you to set a text box background.
SUBHEADING
Recently viewed products